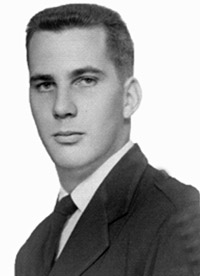 Born on August 5, 1938, he was the sixth of seven children (one girl and six boys).  His parents were Juan Manuel and Gertrudis Angel de Campaneria.  Raised in Central Conchita, a sugar mill located in the Matanzas province, he received elementary education at the public school in Central Conchita and in Mimó Elementary School, in the city of Matanzas.  For his secondary education he went to Belen (2 years), Colegio Baldor (one year) and Havana Military Academy, from which he received his high school diploma in 1958.
He began to study Law at La Salle University in Havana (the University of Havana was closed at that time due to political unrest), then to Villanueva University, and finally, after it reopened in 1959, to the University of Havana.  However, his studies were cut short.  Virgilio began working underground in order to bring about democracy and free Cuba from communism. 
Late in 1959 he founded a student organization named SAC ("Salvar a Cuba") that eventually merged with "Directorio Estudiantil".  Arrested on March 27, 1961, he was summarily executed by a firing squad at 
La Cabaña prison on April 18 of that year at the age of 23.