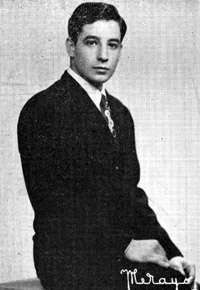 Rogelio Gonzalez Corzo
(1932-1961)
Rogelio Gonzalez Corzo was born in Havana on September 16, 1932 to Spanish Catholic parents, Manuel Gonzalez and Gloria Corzo. He had two older brothers, Isidro and Manuel.
He attended the Colegio San Francisco de Sales for his primary school studies, after which he attended the Jesuit Colegio (High School) de Belen, Class of 1951. He continued his education at the University of Havana, graduating in Agronomy. Later he took a post graduate course in the United States, in Baton Rouge Louisiana. At the University of Havana, Rogelio became an active member of the Agrupacion Catolica Universitaria. Known in the clandestine Cuban forces as Francisco he was the leader (Coordinador Nacional) in Cuba of the anti- Castro "Movimiento de Recuperación Revolucionaria (MRR). In a secret meeting held on July 6, 1960, "Francisco" was elected national coordinator of the Democratic Revolutionary Front,(Frente Revolucionario Democratico FRD) a coalition of the main underground resistance groups. In 1961 he was designated as National Military Coordinator (Coordinador Militar Nacional del Consejo Revolucionario)
Rogelio was arrested on the afternoon of Saturday March 18, 1961. A number of leaders of the underground were meeting in a supposedly "safe house" to discuss plans to intensify the sabotage campaign that had been rocking the country since the previous fall when they were surrounded by Castro's heavily armed agents.The morning of April 20, Rogelio was executed in la Cabana, after a summary and secret trial the day before. His last words were "¡ Viva Cuba, Viva Cristo Rey!" He began a final Viva to the Agrupacion Catolica Universitaria, but the discharge of bullets interrupted that Viva and ended his earthly life.
Rogelio Gonzalez Corzo was honored in the Wall of Martyrs on May 20, 2009 for his bravery in fighting the oppressive Cuban government under Castro in his short time on the Earth. He, just like his honored peers, is a symbol of all of the men and women who gave their lives for Cuba.
.