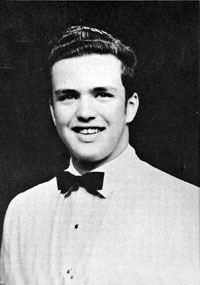 Ramón Cubeñas Conde was born in 1940. He was a former student of Business Administration at the University in Santiago de Cuba. In the wake of Fidel Castro's ascension to power, Conde went into exile.
In April of 1961, he took part in the failed Bay of Pigs invasion that attempted to overthrow the regime. Soon after, he became a member of United States sponsored infiltration teams to Cuba that created opposition to the communist government under Castro. As a result of being involved with these efforts, Conde had multiple other aliases such as Ramón Cubelas and Ramón Cabañas Conde.
On October 26, 1964, he, along with other team members, were traveling on a boat carrying explosives to Cuba when the charges went off. The so-called accidental explosion killed Conde along with three other team members, though conspiracy believes the charges were purposely set by anti-insurgency agents. Ramón Cubeñas Conde was honored in the Wall of Martyrs on May 20, 2010 for his bravery in fighting the oppressive Cuban government under Castro in his short time on the Earth. He, just like his honored peers, is a symbol of all of the men and women who gave their lives for Cuba.