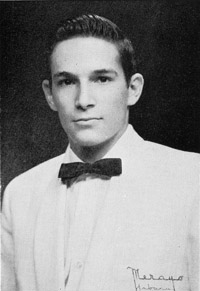 Eugenio Batista Gastón was seriously committed to the pursuit of his ideal: to become an exemplary Jesuit. For this purpose, he entered the Novitiate at El Calvario in Havana, in 1960 after graduating from El Colegio de Belén. Eugenio was a man of prayer, polite, austere in his lifestyle, well liked by his peers and always ready to take on the hardest jobs. During his Belén years, he had been an excellent student and a consummate athlete who would travel with his classmates to the most remote regions of Pinar del Río in order to experience firsthand the life of the poorest of peasants.
Eugenio, who had just taken his vows in 1962, gave his life out of love for his friend when he jumped into the flames of a violent fire in the mountains behind their Jesuit Novitiate in Los Teques, Venezuela, in a valiant effort to try to save the life of Alberto Capdevielle, a first year novice from Venezuela.
On that fateful day, after hearing the news, other novices came running and surrounded Eugenio and Alberto to painfully wait for the slowly forthcoming help, all along sitting silently on the smoky mountainside. It was then that Alberto's frail voice was heard to whisper "Gracias, Eugenio", as he was fully aware of what his friend had sacrificed for him. They both died early the following morning with extensive burns over 90% of their bodies.
The date was March 8, 1964. Eugenio was 22 years old.