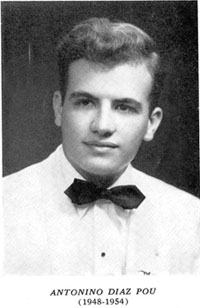 Jose Damaso Antonino Diaz Pou born on December 11, 1934 was a former student of law at the University of Havana. After the culmination of the Castro Revolution, Pou aided in resistance efforts against the communist government.
A member of the MRR, an anti-Castro resistance Movement and a Brigade 2506 founder, Pou infiltrated Cuba on a sabotage mission to aid the Bay of Pigs invasion. After being discovered to be in connection with this mission, Pou managed to escape a man hunt by taking asylum in the Venezuelan embassy in Havana. After leaving asylum, he joined the underground resistance effort.
Ultimately, he was captured in Jibacoa Beach on November 10, 1961 while attempting to flee the island. He was put on trial before the Matanzas Revolutionary Tribunal, prosecuted by First Lieutenant Everildo Rominguez and accused of crimes against the state. Pou, sentenced to death on November 30, 1961, was executed on December 6, 1961 by firing squad at Shooting Range in Limonar, Matanzas.
Jose Damaso Antonino Diaz Pou was honored in the Wall of Martyrs on May 20, 2009 for his bravery in fighting the oppressive Cuban government under Castro. He, just like his peers, is a symbol of all of the men and women who gave their lives for Cuban freedom.